Lies Beneath
by
Anne Greenwood Brown
My rating:
3 of 5 stars
"I hadn't killed anyone all winter, and I have to say I felt pretty good about that."
This is a great first line for any book. I read it twice to make sure I was reading the line correctly. That is an attention grabber if there ever was one. Calder is a merman and so are his sisters. These are not your Disney mermaids, they are the murderous kind. The mermaids in this book lure humans to the water and feed off their emotions (thereby also drowning and killing them). Oh joy. Calder meets Lily and starts courting her. The story then goes on to reveal some of the mythology of the mermaids, the back story about the sisters and some dark secrets. Calder find himself attracted to her but he also has a darker purpose in befriending her. He and his sisters want to kill her father to avenge the death of their mother. You can see how that can throw a wrench in any relationship. It IS a little hard to get over that little detail.
This is what I imagined when I hear about mermaids.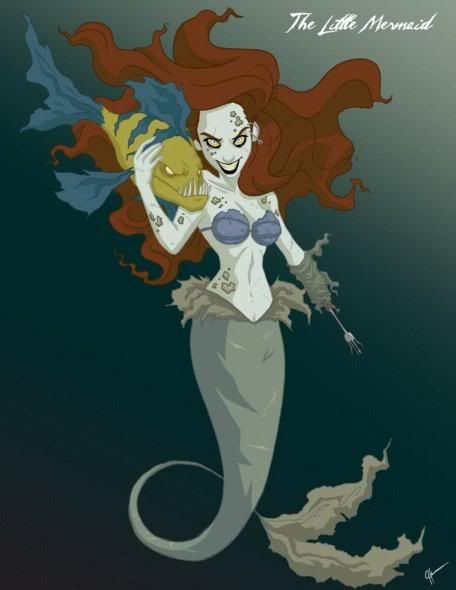 This is what we get here
The book had an interesting premise and a compelling anti-hero. It is refreshing to see some variation and exploration into the not-so-perfect male hero. Here we go with a psychopath. A bit extreme, but hey, it works. This author does delve into insta-love on Calder's side. This is so annoying. The amount of inta-love in YA these days is ridiculous. I digress. But at least, Lily, as the female heroine, was refreshing. She did lack in characterization but at elast had some backbone. In the insta-love category, stalker behavior is often encouraged (which is oh so wrong). Remember Edward Cullen? In this book, Lily flat out tells Calder that he creeps her out and calls him on his stalker behavior. Well done! Finally. Someone calls the guy out.
The books does take a new approach to the male main character, making him a killer psychopath merman. He is not that likable either. Actually, I did not like him at all. He was conceited, annoying, a creep and he stalked Lily. The writing is enjoyable and so is the story. The story could have benefited from a tighter plot, better world building and less plot holes. Although I have to say, it is very predictable. The red herrings in this book come with a neon sign. After finishing this book, I felt that a lot was left unanswered (even for a series). And oh-to-convenient things started happening in the end rather quickly as to be confusing. I will be giving this series another chance and reading the second book.
View all my reviews