Rating: Skip
This Rokform case for my iPhone 4S looks great. It is super light weighing about 1 ounce. The case is made of aluminum and looks like good protection for the iPhone. The idea of this case is pretty good. That is, if you can get it on, AND then remove it. I followed the instructions on their website before putting it on. I researched it a bit too. It was too snug a fit. I felt like I was scratching my phone with the hard aluminum case. And, it did. That hurt! My poor iPhone. Then, after adding the other part, I looked at it. Yeah, seems like a good protecton case. Ok, time to remove it. I tried to take it off. Easy removal is important to me as I want to be able to quickly change to a Mophie charger case if needed.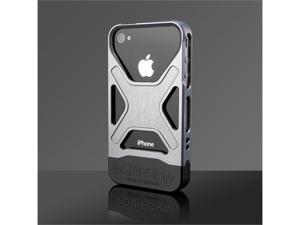 Omg, it was nearly impossible. I watched the video at Rokform's website on how to remove it and I followed it to a T. It would not budge. At all. I tried for a long time, breaking a nail and attempting a million different ways. I used flathead screwdrivers and pliers trying to get it off. Nothing. I grabbed a towel to see if the issue were slippery hands. Nope. I tried a bigger flat head. Nada. I tried a paint removing tool. Zilch. I thought about a knife but considering how this was going (and my nail)...well, i didnt want to add blood and a cut on my finger to the mix. After a few hours (yes, hours), I gave up.
I called customer service and they told me how to take it off, which were the steps that I had been doing. No goodworkable solution. And then, i hear the kicker. Apparently this is an issue for them. Others have had a similar experience. The issue is, apparently, that no two iphones are the same and they slightly vary in size. Since the Rokform is so snug a fit, this is an issue with any smidget of a bigger size. They were very helpful and mentioned that if the case didn't come off and I broke the plastic part I could get it replaced. At that point I stopped caring about the case and employed the pliers and flathead completely scratching and denting the case. Two hours later, I was finally able to slide it off. Apparently, my phone is too snug a fit. They mentioned they would replace it with a slightly bigger one and that it what I am going to do.
Update 3/2013: I never asked them to replace it. The reason is that I did not want to risk it again. I had already scratched the edges of my iPhone with this case and it did not want to take a chance at further damage. Put yourself in my shoes. Would you risk scratching your $200+ iPhone over a case?